 Malak, Palestinian, is a sixteen-year-old girl. She lives in East Jerusalem. Liraz, 18, is a Jewish girl who lives in the western sector of the Holy City. They share the same passion: basketball. The tension of the past few days, erupted after President Trump's announcement to recognize Jerusalem as the capital of the State of Israel, doesn't seem to affect their friendship inside and outside the court, nor that of their team-mates.
"When we play – they said in unison – we help each other, we fight for each other, we're on the same wave-length: a glance is enough to decide our next move and score. We're a team and we act like one. There's no room for protagonism or individualism."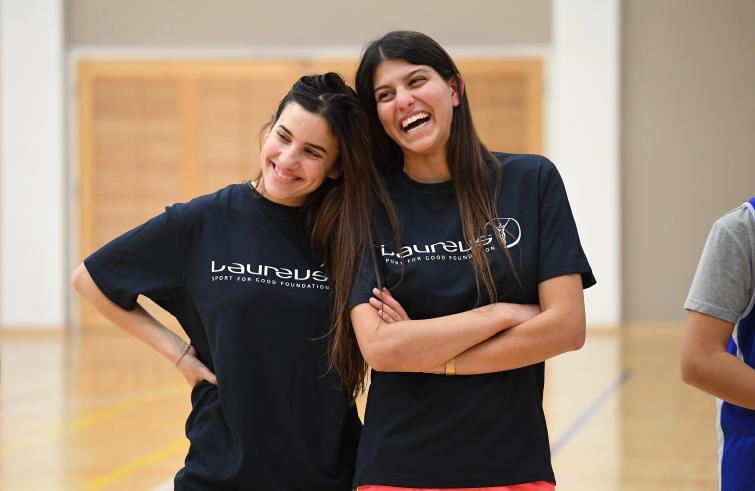 They smile as they speak, one of them leans on the other's shoulder, Hebrew and Arabic words are blended together. Behind them the rest of the team puffs and pants on the field. They have to honour a national women's championship that has been excelling for several years. Their team, significantly named "Jerusalem", is well-known: it's the only basketball team of the tournament with Arab and Israeli players. "Indeed, when we enter the field all together a large part of the audience is bewildered", they said with a laugh.
Peace scores a basket. Basketball as a way of living, sport as a tool to tear down walls of misunderstanding and build hope. It's what they are taught by Laureus Sport for Good (www.laureus.com), the foundation that supports over 100 projects and solidarity initiatives in 35 world countries, including Israel and Palestine, where "Laureus Sport for Good Middle-East" (SFGME) launched two programs: one for friendship and peace through basketball and one through football, in conjunction with the "Peres Peace Centre" in Tel Aviv. SFGME Project manager Jens Thiemer, German, Vice-President of Mercedes-Benz cars, who has been supporting "Laureus Sport for Good" since its foundation in the year 2000, is watching the workout session seated on a nearby bench. He comments with the words of Nelson Mandela, the first patron of the Foundation: "No dream is too big."
"Our dream is peace and we want to share it with thousands of Arab and Israeli youths who have taken part in our projects over the past years. We firmly believe that sport is a tool that can change the world."
Malak and Liraz, along with their Israeli and Arab team, seem to prove him right.
"Competitors, not enemies" on the field. However, even dreams come at a price. Heni, Israeli, coach of the "Jerusalem" team and  a contributor to "Laureus Sport for Good Middle-East",  spoke about the price of their dream:
"Since 2006 as many as 8thousand athletes were involved in the project. Many of them were subjected to pressure by their friends, at school, sometimes even by family members. They didn't want them to play in a team with a Palestinian or with an Israeli. Here, as children, we are taught that the other person is an enemy to be feared. These are the sad consequences of the conflict that has been ongoing for the past 50 years. But for us there are no enemies, only competitors on the field." She stops speaking and blows into her whistle to stop the game of the young female athletes playing in the large basketball court of Jerusalem International Ymca, located in the Jewish quarter of the Holy City, signalling them to listen to the advice of a living legend of women's basketball: the Olympic gold medal winner in Sydney with the US team Chamique Holdsclaw. Chamique is one of 180 world sport stars who after a long success story, now dedicates her time to youths worldwide as ambassador of "Laureus Sport for Good", to highlight the importance of sport as a tool that promotes friendship and peace. "Living in peace and friendship is possible – Heni added -.
Dialogue is the key. There's always shared blame and shared reason.
What's important for us is to act as a team inside and outside the basketball field, to tear down barriers and walls. To respect each other as athletes and individuals." The results are self-evident:
"Families previously unwilling to let their daughters play in a team with Israeli or Palestinian athletes have become the greatest supporters. Having put aside ethnic or religious differences, they can be seen together at the matches rooting for 'Jerusalem.' Away games thus become a way to show that living together is possible."
And as every respected team, their thoughts and "nets" go to all those girls who "wanted to join the team but were not allowed to by their families." The road ahead is still long. The championship of peace and coexistence can be won by playing until the very last game.
Scoring a "goal" for coexistence. From the basketball field to the football field, from Jerusalem to Tel Aviv, there is an opposite path compared to the one that someone on the other side of the ocean wishes its diplomatic representatives to follow. In Pardes Katz, a suburb of Tel Aviv, in the public school of "Komemiut", that means "independence", hundreds of pupils, many of whom from Orthodox Jewish families, take part in the programs of the "Peres Peace Center", founded in 1996 by Nobel Peace Prize laureate Shimon Peres, President of the State of Israel from 2007 to 2014. People here don't play basketball, they play football. According to Tamar Hay-Sagiv, director of the "Education" department of the "Peres Peace Centre", approximately 20 thousand children and youths, Israelis, Palestinians and children of refugees and migrants, have taken part in the Centre's programs supported by the "Laureus Sport for Good" programs over the past years. "The football field – Tamar said – is the place where all these youths meet, where they learn to trust each other and be together."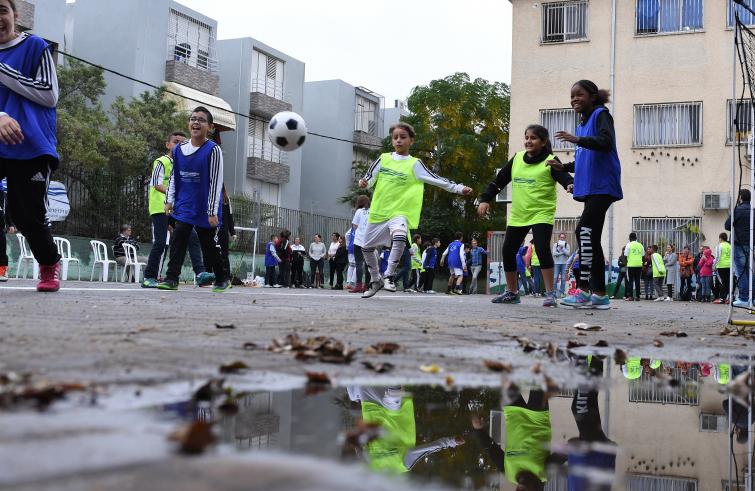 The young athletes play and pass ball under a light rainfall. Despite the apparent mixture of languages there is deep mutual understanding: they discover each other's talents and qualities, some pick up balls or catch them, others run and sweat for their team-mates, invent trajectories or make field goals, followed by hugs and pats on the shoulder. This atmosphere lingers on even after the final whistle.
"Wins and defeats consolidate their friendship and that of their families day after day. In this way football helps build bridges and overcome all the prejudices nurtured on both sides."
It's a vital match for the future of this land, and it can be played also on a green football field. For Tamar
"every game is a drop of peace that irrigates our land. We can't wait for decisions handed down from on high by the political sphere.
We look forward to sustainable peace, because we can live together." The match between sport and war has no breakeven result. The young athletes of the "Jerusalem" basketball team and the promising football players of the "Peres Peace Centre", are winning their game on the field.